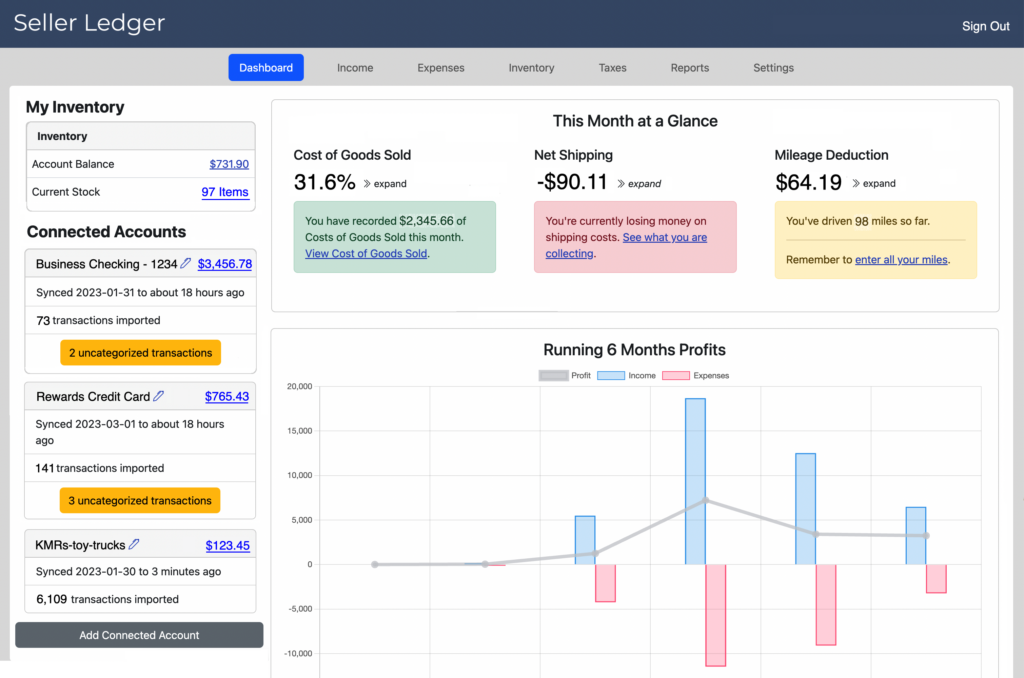 Just like GoDaddy Bookkeeping …but even better
Re-imagined by the original founder of Outright/GoDaddy Bookkeeping, Seller Ledger automates your e-commerce bookkeeping
Tailored to online sellers
Unlike the established accounting software vendors, we didn't shoehorn e-commerce into an existing platform. Seller Ledger has been built from the ground up for the needs to online sellers.
A familiar look and feel
We keep things nice and simple, with easy access to your connected accounts, income and expenses. And the more you use Seller Ledger, the smarter it gets.
Pricing you can afford
Starting at just $10 per month (or $100 per year,) we won't eat into your profits. Nor will we try to cross sell you a bunch of extra services.
"You did a great job on the website. It is pretty close to the original Go Daddy I paid for. Thank you again for making this great website that I'm sure will help out a lot of people with their eBay selling."
Chris B.
How it works
Automate your bookkeeping in 3 easy steps
---
Link your online business accounts
Seller Ledger connects securely to your online sales channels (we currently support eBay, Etsy and Poshmark, with plans to add Amazon and more) as well as PayPal and most banks and credit cards.
Smart categorization gets you organized
We organize your sales data and selling fees into the proper categories, and make it simple for you to categorize the rest. You can also enter other business transactions manually, including mileage and cost of goods.
Simplify your taxes
Say goodbye to the end-of-year rush, combing through online reports and tabulating spreadsheets. Seller Ledger generates a Schedule C tax report for you using your sales and expense history.
Track inventory and cost of goods sold

Something we never got to build at Outright/GoDaddy Bookkeeping: inventory tracking and automated cost of goods calculations
Avoid stock-outs. See how much you make per order. Track your inventory and profitability at the level of detail that fits your business.
Like GoDaddy Bookkeeping… but better
"I am very impressed with the COGS section. The "Sold" section of COGS is brilliant. The tool is working very well now at matching my SKU's on sold items. This automation makes it very easy."
– Trace, former GoDaddy Bookkeeping user
Starter
Up to 250 transactions/mo
Growth
Up to 1,000 transactions/mo
Professional
Up to 5,000 transactions/mo
Free 30-day trial, no credit card required. Pre-paid annual plans include up to 15 months of transaction history, where available.
More kind words from our customers
They say you never get a second chance to make a first impression
"I like how things look so far.  It is simple to understand what is what and where to go for information. I think you're on the right track."
Dawn R.
"I really like the "Schedule C"-like taxes tab…that's very cool. Keep up the good work."
Bob S.
"This looks to be WAY simpler than QuickBooks. Thank you soooooo very much for doing this.  I know many folks are excited to see this work.  It is really needed."
Penny S.