Automated bookkeeping software for eCommerce sellers
Spend more time sourcing and listing…and less on bookkeeping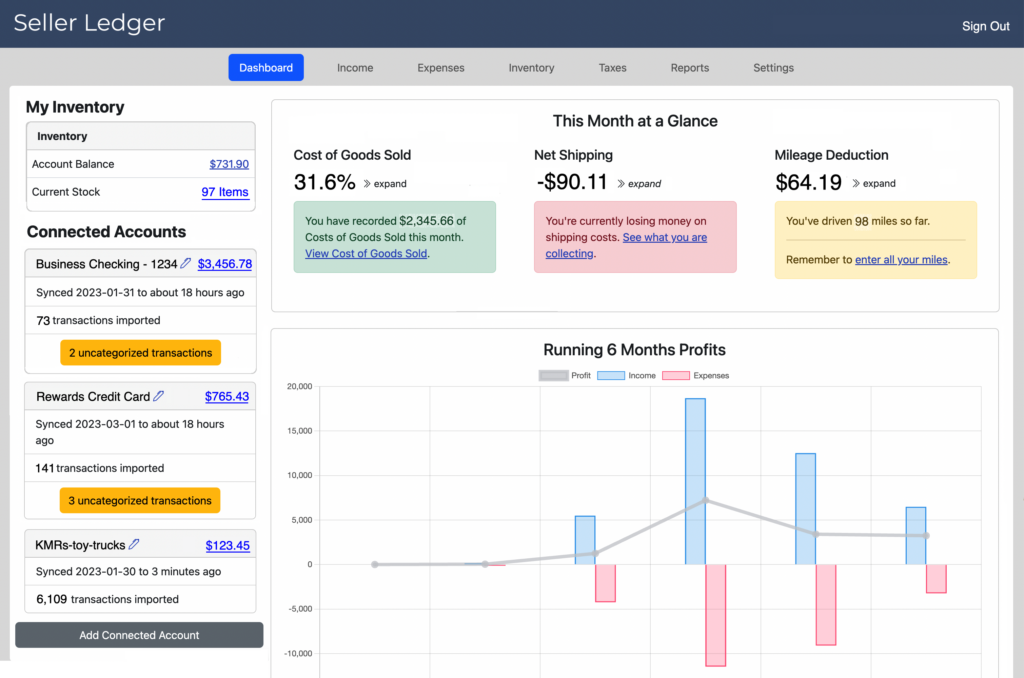 Bookkeeping Made Easy.
Tracking finances and preparing for taxes is a hassle for any business, but for eCommerce sellers, it's a nightmare. Fortunately, Seller Ledger has been specifically designed to simplify bookkeeping for online sellers.
---
Link your business accounts
Seller Ledger connects securely to your online sales channels (we currently support Amazon, eBay, Etsy, Poshmark and Mercari with plans to add many more) as well as PayPal and most banks and credit cards.
Stay organized
We organize your sales data and selling fees into the proper categories, and make it simple for you to categorize the rest. You can also enter other business transactions manually, including mileage and cost of goods.
Manage inventory and cost of goods
Avoid stock-outs. See how much you make per order. Track your inventory and profitability at the level of detail that fits your business.
Simplify your taxes
Say goodbye to the end-of-year rush, combing through online reports and tabulating spreadsheets. Seller Ledger generates a Schedule C tax report for you using your sales and expense history.
Who is Seller Ledger for?
Are you are an online seller who values simplicity? Do you prefer sourcing and creating items to sell over spending hours in your bookkeeping software? Then Seller Ledger is for you.
Prior GoDaddy Bookkeeping Users

Seller Ledger is designed by members of the team that created Outright, which became GoDaddy Bookkeeping. We've kept the same simplicity, but tailored it even more for e-commerce.
eBay Sellers

Import all of your order, shipping and fee information, we'll categorize everything for you. No more spreadsheets.
Etsy Shop owners

Get back to making what you love and selling. Let Seller Ledger grab all of your sales and fee information, show you how you're doing and get numbers that match your 1099-k at the end of the year.
Amazon sellers

Automatically link your Seller Central account and let Seller Ledger do the rest. See your profits overall and by item.
Poshmark sellers

Import your sales history and let Seller Ledger categorize your sales and discounts, and calculate your fees.
Mercari sellers

Import your transaction history and let Seller Ledger break down your seller proceeds into order sales and fees.
Frustrated QuickBooks users

Yes, it's the 800 lb. gorilla in the space…with 800 pounds of complexity and costs. If you want something much simpler, with only the features you need for an e-commerce business at a fraction of the cost, give us a try.
Starter
Up to 250 transactions/mo
Growth
Up to 1,000 transactions/mo
Professional
Up to 5,000 transactions/mo
Free 30-day trial, no credit card required. Pre-paid annual plans include up to 15 months of transaction history, where available.
Don't take our word for it…
Hear what actual customers have to say about Seller Ledger
"Thanks so much for bringing Outright back as Seller Ledger and working so hard to make it so much easier for those of us who have to keep books for our business, but don't know accounting."
Devora G.
"Thank you again for making this great website that I'm sure will help out a lot of people with their eBay selling."
Chris B.
"This looks to be WAY simpler than QuickBooks. Thank you soooooo very much for doing this.  I know many folks are excited to see this work.  It is really needed."
Penny S.
"Thank you! I'm so happy and back on track with my accounting:-)"
Diane U.
"Got rid of QuickBooks this morning.. so happy you are providing accurate information from eBay… sure makes my accounting life much easier. So simple to track all of my expenses!!"
Alice C.
"I like how things look so far.  It is simple to understand what is what and where to go for information. I think you're on the right track."
Dawn R.